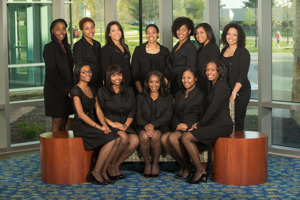 Alpha Kappa Alpha Sorority, Inc. (AKA), the oldest Greek-lettered organization established by African American college-educated women, has chartered a new undergraduate chapter on the University of Southern Indiana campus. On Sunday, April 21, Tau Rho became the first African American sorority chartered at USI. The occasion was marked with a luncheon in Carter Hall where newly initiated members were welcomed by USI President Linda L.M. Bennett, Provost Ronald Rochon, and AKA Central Regional Director Gisele' Casanova.
"I'm excited to see the presence of a National Pan-Hellenic Council organization on campus," said Pamela Hopson, director of USI Multicultural Center and president of the Zeta Zeta Omega Chapter of AKA. "The chartering of Tau Rho Chapter of AKA will add another dimension not only to the sorority/fraternity experience, but will serve to enhance the campus life experience in civic, social, and political arenas as we continue to embrace our more inclusive community."
"I'm proud of the establishment of an AKA chapter at USI," said David Stetter, program advisor for Fraternity/Sorority Life. "I believe their efforts this spring have laid the foundation for establishing additional National Pan-Hellenic Council organizations.  I am excited to work with the group and to watch them grow and develop."
AKA is an international service organization founded on the campus of Howard University in Washington, D.C. in 1908. It is comprised of 260,000 members in graduate and undergraduate chapters in the United States, U. S. Virgin Islands, the Caribbean, Canada, Japan, Germany, Korea, and Africa. The organization has dedicated itself to improving the quality of life for citizens worldwide through health, literacy, and economic empowerment projects and provides scholarships to young people in pursuit of a college education.