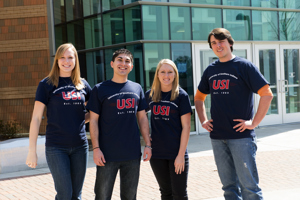 The USI Bookstore and Student Government Association have teamed up to host the T-Shirt Swap on April 8-12. The T-Shirt Swap provides an opportunity for USI students, faculty, and staff to bring in a t-shirt from another university and swap it for a free USI t-shirt. Additionally, t-shirts will be sold for only $3 to those without a t-shirt to swap.
The T-shirt Swap is part of a university-wide effort to foster more school spirit. The USI Bookstore has been supporting this goal by offering an increasing variety of merchandise that shows Eagle pride. Together, SGA and the USI Bookstore hope to continue this trend by providing a low cost option to add USI apparel to a student's wardrobe. 
"When I arrived on campus, I saw students wearing shirts from other universities," said Sarah Krampe, Student Government Association president.  "I rarely saw students wearing USI clothing. Over the past few years I've seen dramatic progress towards this goal, thanks to the USI Bookstore. It's something that is very important to a university and something we want to support as a student government."
Student Government Association representatives will be facilitating the swap in University Center East, near the cone from 10 a.m. to 2 p.m., April 8-12. The Bookstore also will swap or sell shirts any time during normal operating hours. Cash, credit, or Eagle Access accounts are accepted.  
Additional information can be found at www.usi.edu/swap.