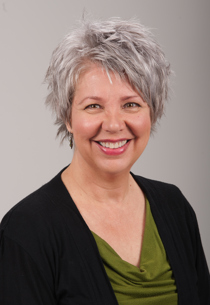 Connie Stambush has joined the University of Southern Indiana as senior writer in News and Information Services.
With more than 22 year of experience in writing for print, magazine, web, and marketing, Stambush has worked in diverse environments such as India, Prague, and New York.
During her time abroad, Stambush lived in India for four years, working as a freelance writer for the Houston Chronicle and the Far Eastern Economic Review before becoming an editor for the Women's Feature Service, an international wire service dedicated to getting the voices of women into mainstream media.
She has been a self-employed writer and editor since 1998, working with a broad range of clients including University of Southern Indiana, Move2Perform, Mead Johnson Nutrition, Evansville Civic Theatre, and Fire and Rain.
As a freelance writer, Stambush is accustomed to handling high volumes of distinct projects. For 11 years, she wrote news briefs, profiles, and complex narratives for the Evansville Courier and Press, Evansville Living, Evansville Business Journal, Cosmopolitan, and other publications. She also was an adjunct professor at both USI and the University of Evansville.
Last fall, she played a role in USI's identity initiative by conducting interviews and formulating a comprehensive report based on responses.
"I'm very excited to have joined the News and Information team at USI," said Stambush. "The department is involved in many exciting projects—newsletters and magazines for each of the four colleges—and I look forward to collaborating with all the various departments. I feel the diversity of each project I'm involved with will add to my understanding of all USI has to offer both its students and the community-at-large."
Stambush, an Evansville native, holds a Bachelor of Arts degree in journalism from Indiana University and a Master of Fine Arts degree in creative nonfiction from Sarah Lawrence College in Bronxville, New York.