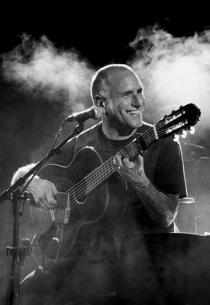 Multiplatinum Israeli singer/songwriter David Broza will perform at 6:30 p.m. Wednesday, April 17, in Carter Hall in the University Center at the University of Southern Indiana. The concert is free and open to the public. Doors open at 5:30 p.m.
A steadfast humanitarian, Broza has worked to spread a message of peace through his music. Since 1977, he has devoted substantial attention to the Israeli-Palestinian conflict. He has collaborated with many Palestinian musicians over the years and has had hit songs with the Palestinian band Sabreen.  
Broza was appointed a Goodwill Ambassador for the United Nations Children's Fund (UNICEF) in 1996.  His song, "Together" (co-written by Ramsey Mclean) was the theme song the for UNICEF 50th anniversary celebration in more than 148 countries.
His dedication to promoting Israeli-Spanish relations and worldwide tolerance earned Broza a Spanish royal medal of honor from King Juan Carlos I in 2009. 
His true genius as a musician is his ability to seamlessly put music to poetry. He has recorded the poems of many Israeli, Spanish, and English language poets including Percy Bysshe Shelley, Elizabeth Bishop, Alberto Rios, Liam Rector and Matthew Graham, USI professor of English and director of Creative Writing.
Broza's collaboration with Graham has brought him to USI on previous occasions as a guest of the University's RopeWalk Writers Retreat. At one of those retreats, the poet William Matthews publicly thanked Broza "for all you've done for American poetry."
Broza's appearance at USI is made possible through a collaboration between the USI Office of the Provost, Temple Adath B'nai Israel, the Bronstein Foundation, the Evansville Courier & Press,and Casino Aztar.
For more information, contact Ellen Claire Topper, interim director of International Studies, at 812/228-5131.