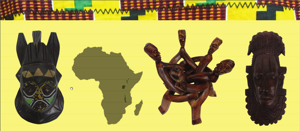 An African Cultural Diversity Showcase will begin on April 6 at the University of Southern Indiana.
Dr. Sweet U Ebeigbe, African art historian and member of the Benin royal family, will discuss African perspective in multicultural education at 9:30 a.m. Saturday, April 6, in room 1016 of the Liberal Arts Center. Dr. Michael Ndemank, USI assistant professor of education, and Dr. Amanuael Beyin, USI lecturer in Liberal Arts, also will speak about opportunities for promoting diversity through African artifacts and archeological insights into African cultural diversity, respectively. The presentation, which concludes at 11:15 a.m., will be followed by a tour of the display, carving demonstrations, and an African lunch.
Ebeigbe also will participate in USI's Saturday Art Workshops from 9 a.m. to 2 p.m. on April 13 and 20.
She will speak to USI students on Tuesday, April 9 at 10:30 a.m. in Kleymeyer Hall; Thursday, April 11 at 7 p.m. in Forum II; and Friday, April 12 at 3 p.m. in Forum II.
All events are free and open to the public.
The African Cultural Diversity Showcase is sponsored by the USI Office of the Provost, College of Liberal Arts, and the Pott College of Science, Engineering, and Education.
For more information, contact Dr. Joseph Uduehi at 812/465-1068 or juduehi@usi.edu.