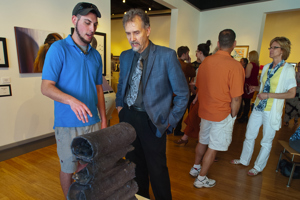 The University of Southern Indiana's 43rd Annual Juried Student Art Exhibition, an annual presentation of selected student art works, is currently on display in the Kenneth P. McCutchan Art Center/Palmina F. and Stephen S. Pace Galleries, located in the lower level of the Liberal Arts Center.
Josh White, executive director of the Yeiser Art Center in Paducah, Kentucky, and this year's juror, chose 160 student art works from more than 350 pieces entered in the show. They include paintings, wood and metal sculptures, graphic and interactive design works, illustrations, prints, furniture, ceramics, jewelry, photographs, drawings, and mixed media.
An awards ceremony and reception will be held from 2 to 4 p.m. Sunday, April 7, with awards announced at 3 p.m. Over $7,800 in scholarships, merit awards, and purchase awards will be announced.
The awards ceremony and reception is free and open to the public. Refreshments will be served.
The 43rd Annual Juried Student Art Exhibition is on display in the McCutchan Art Center/Pace Galleries through May 5. Hours are 10 a.m. to 4 p.m. Monday through Friday and 1 p.m. to 5 p.m. Sunday. For more information, call 812/228-5006.