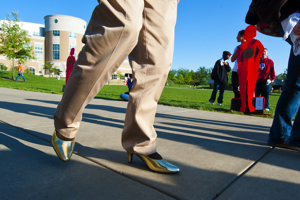 On Tuesday, April 9, USI and Albion Fellows Bacon Center will host "Walk a Mile in Her Shoes: The International Men's March to Stop Rape, Sexual Assault and Gender Violence." This event, which raises awareness of rape, sexual assault, and gender violence, is held annually on the USI campus.
Inspired by the saying that you can't understand someone else's experience until you've walked a mile in his or her shoes, men will literally walk one mile in women's high heeled shoes. Women and children are also welcome to participate.
Among the men participating will be Vanderburgh County Sheriff Eric Williams '89; Evansville Police Department Chief Billy Bolin; and Vanderburgh County Prosecutor Nick Hermann. Registration for the walk begins at 5 p.m. at the University Center Amphitheatre near "The Cone."  This year's speaker is a young man who will discuss the impact of child sexual abuse he experienced and his role with helping other survivors. After the walk, Williams, Bolin, and Hermann will pledge with students and community members to make a difference. 
 The walk is sponsored by a number of USI campus organizations, including Fraternity and Sorority Life of USI, Student Government Association, and Student Housing Association.
Community sponsors include American Poolplayers Association, Holly's House, Fraternal Order of Police #73, Premiums Plus, Warrick County Prosecutor's Office, Boyd Electric, and SouthWest Graphix.
Albion Fellows Bacon Center, a nonprofit agency serving victims of domestic and sexual violence, provided sexual assault services to 938 primary and secondary victims in 2012. Albion provides emergency shelter, a 24-hour crisis line, short-term individual crisis counseling, support groups, and legal and medical advocacy to victims and their friends and family. All services are free of charge. For more information, contact Christina Wicks at Albion Fellows Bacon Center, 812/422-9372.
More information about the national Walk a Mile in Her Shoes: The International Men's March to Stop Rape, Sexual Assault and Gender Violence can be found at www.walkamileinhershoes.org.