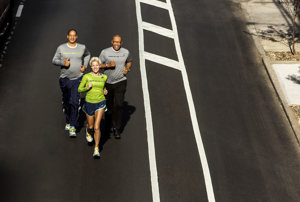 The creator of Back on My Feet, a national homeless advocacy organization that has helped more than 750 homeless people find employment over the past four years, will speak at the University of Southern Indiana next month.
Anne Mahlum is the founder and CEO of Back on My Feet, a non-profit organization that aims to transform the lives of homeless people through running. Mahlum will speak at 6:30 p.m., Friday, April 12, in Carter Hall in the University Center and run in USI's Romain Subaru Spring into Fitness 10K Saturday, April 13. Mahlum's presentation is sponsored by USI's Department of Kinesiology and Sport and Girl Scouts of Southwest Indiana in support of Evansville's 30 Days of Poverty awareness campaign.
Founded in Philadelphia in 2007, Back on My Feet's mission is to inspire self-worth and self-value in homeless people through running. Participants of the program live in transitional housing such as homeless shelters. They participate in morning runs three days each week, while the organization works with partners in local communities to secure housing and employment.
Programs addressing emotional transformation are largely absent in most efforts to end homelessness.  Back on My Feet is an effort to fill that void. "We're trying to change this conversation around homelessness. We just can't keep doing the same thing and hoping for different results. We need to realize that these are human beings. They're people. They're not different from you and me, and they need to learn to love themselves," Mahlum said in an interview with MSNBC earlier this month. 
Back on My Feet has nine chapters across the country, with a tenth to open later this year in Los Angeles. Forty-six percent of participants leave the program with a job, housing, or both in a process lasting an average of six months.
USI's Department of Kinesiology and Sport in the Pott College of Science, Engineering, and Education, provides bachelor of science degrees in physical education teaching, kinesiology, sport management, and exercise science. It also provides minors in health and safety education, physical education, coaching, personal training, and sport management.
For more information on Mahlum's presentation, contact Dr. Glenna Bower, associate professor and chair of the Department of Kinesiology and Sport, by email at gbower@usi.edu or by phone at 812/465-1265.