Eagles receive at-large bid to NCAA II regional
Eagles receive at-large bid to NCAA II regional
3/11/2013 |
University Communications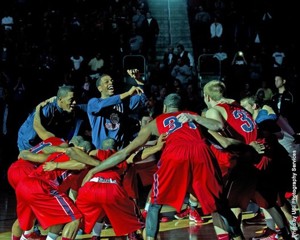 The 18th-ranked University of Southern Indiana men's basketball team received an at-large bid to the NCAA Division II Tournament and will play in the Midwest Regional, which is scheduled for March 16-19 in Springfield, Missouri. The regional is being hosted by eighth-ranked and top-seeded Drury University.
 
The Screaming Eagles (22-7) return to the NCAA Division II Tournament for the third-straight season and are making their 18th regional appearance in the last 21 seasons. USI, the 1995 NCAA II National Champion, has appeared in the NCAA II Tournament 23 times in the history of the program and has a record of 30-25 in tournament play.
 
The Eagles are the second seed in the regional and start national tournament action Saturday at 2:30 p.m. when they take on seventh-seeded Wayne State University (17-9). USI has played Wayne State, from the Great Lakes Intercollegiate Athletic Conference, three times in the NCAA II Tournament, twice on its way to the NCAA Division II Elite Eight finals (1994 and 2004).
 
In addition to the USI-WSU match-up, the top half of the bracket features third-seeded Bellarmine University (22-7) against sixth-seeded University of Indianapolis (20-8) at noon. 
 
The bottom half of the regional bracket begins Saturday at 6 p.m. with  Drury (25-4) hosting eighth-seeded University of Findlay (22-7). The first round of the regional concludes with fourth-seeded Michigan Tech University (20-8) playing  fifth-seeded University of Wisconsin-Parkside (20-8) at 8:30 p.m. 
 
The semifinals will be played Sunday (March 17) at 5 p.m. and 7:30 p.m., while the regional championship game is scheduled for March 19 at 7 p.m. Tickets are $10 for reserved seats, $8 for adult general admission, and $4 for student general admission. Fans can reserve tickets by calling the USI Ticket Office at 812/465-7165 from 8 a.m. to 4:30 p.m.