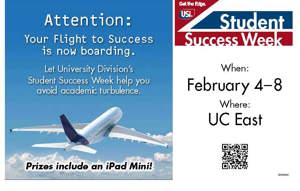 The University of Southern Indiana's University Division offers its second annual Student Success Week Monday, February 4, through Friday, February 8. Presenters will offer more than 70 workshops focused on developing the student's mind, self, and awareness of the world.
Sessions will run from 10:20 a.m. to 2:15 p.m. Tuesday and Thursday and 1 to 5 p.m. Wednesday.
The week culminates with a party on Friday with food, entertainment, and prizes, beginning at 11 a.m. in the Writers' Room (Education Center, Room 1102).
For more information, contact Tim Fitzgibbon, University Division advisor, at 812/465-1606 or tjfitzgibb@usi.edu or go to http://www.usi.edu/uni_div/Student%20Success%20Week.asp.