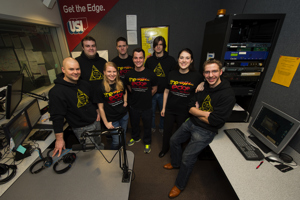 Ten staff members of The Edge, the University of Southern Indiana's student radio station, have been recognized for their achievements in four broadcasting competitions, earning 26 awards – more than double the total from last year.
"We're very excited," said John Morris, instructor of radio and television and general manager of The Edge. "It's far and away the best we've ever done, and we've have a lot of success over the past decade."
Junior Kayla McCarty, program director, said the station's success is a result not just of individual leaders but of teamwork. "I wish I could put into words how awesome the staff is this year. I'm so proud of all of the work everyone has done. It's just nice to have your hard work recognized."
The Edge's success is about more than just winning awards, said Chris Howard, station manager, who took home seven individual awards. "We do what we do to be the best station. These awards are just a reflection of that."
The recognition of the staff's achievements gives new radio and television majors something to strive for. The awards hang on the walls of The Edge studios. "We're going to run out of walls here pretty soon," Morris said.
Broadcast Education Association Festival of Arts
Student broadcasters took home two first place awards in the Broadcast Education Association Festival of Arts (BEA), a prestigious national competition. McCarty improved upon her third place award last year in the Air Personality category by winning the top spot. Howard secured the top award in the PSA, Promo or Commercial category and took second place for Comedy or Drama. Second place awards were won by Matt Koewler, web director (Air Personality), Kenny Douglass (PSA, Promo or Commercial), and Mitch Mullis (Radio Sports Story/Feature/News). "Historically, the Air Personality and PSA, Promo, or Commercial categories have been the most competitive with the highest number of entries," Morris said.
The Edge staff will accept their BEA awards in a ceremony in Las Vegas in April. Although USI won three BEA awards last year, this is the first year The Edge has earned a first place award in this competition.  "I'm absolutely speechless," McCarty said.
"It truly hasn't hit me yet," added Howard, who plans to graduate in December. "I remember dreaming about making it to this level. It's really cool that I'm actually achieving what I came to USI for. I'm making my dreams happen."
Indiana Association of School Broadcasters
Five of the 10 awards won in the Indiana Association of School Broadcasters competition were for first place, including the categories of Radio Spot Production, Radio Imaging, and Radio Drama or Skit (Howard); Radio News Report (Shelby Spray); and Radio Copywriting (Drew Coles, PSA director). Five additional awards went to McCarty (Radio Copywriting, second place; Radio Air Personality, third place), Mullis (Radio Sportscast, third place), Mikael Drobny (Radio In-Depth, third place), and Coles (Radio Drama or Skit, second place). Last year, USI students won five awards in this competition, one of them a first place.
Evansville ADDY Awards
Three students won bronze awards in the American Advertising Federation of Greater Evansville's ADDY Awards student competition. The Edge competed in categories of Station Promo (Howard, "That Rocks"; Douglass, "Thankful Listener") and Public Service Announcement (Coles, "Evansville Public Library"). This is the first year The Edge has competed in the ADDYs."
Intercollegiate Broadcasting System
Six students are finalists in the Intercollegiate Broadcasting System competition.  Categories include Best Newscast (Serena Jones), Best News Feature (Spray), Best Public Affairs Program (Drobny), Best Station Promo (Howard), Best Radio Drama (Coles), Best Sports Play-by-Play, and Best Sports Update (Michael Robertson, sports director). Winners will be announced at the 73rd Annual IBS Conference on March 2 in New York City. The Edge had three finalists in last year's competition, including Robertson, who placed in the Best Sports Update category.
Five students were recognized in last year's broadcasting competitions. Visit The Edge website at www.theedgeradio.org. Listen to The Edge at 820 AM and 90.7 FM (HD2) or listen live online.