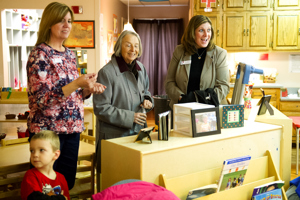 Italian educator Dr. Lella Gandini spoke to students at the University of Southern Indiana this month about the importance of listening in teaching.
Gandini instructed education majors in Dr. Jill Raisor, assistant professor of education's, "Guidance of Young Children" and "Music, Movement, Play, and the Expressive Arts" classes. Students also watched videos of a typical day in the schools of Reggio Emilia, Italy.
USI, Murray State University, and Henderson Community College collaboratively sponsored Gandini as visiting professor, along with her colleague, Amelia Gambetti. "The Wonder of Learning - The Hundred Languages of Children" exhibit, now on display at the Henderson Fine Arts Center at Henderson Community College, is sponsored by Audubon Area Community Services, Henderson Community College, Murray State, the Henderson Office of the County Judge, Welborn Baptist Foundation, and the United Way.
"The schools of Reggio Emilia are world renowned for sharing their vision of children and education," said Dr. Jane Meyer, USI associate professor of education. Meyer and the Pott College of Science, Engineering, and Education played a key role in bringing Gandini and the exhibit to the area. Gandini also toured USI's Children's Learning Center during her visit to campus. The center is operated as a lab school under the direction of the Pott College of Science, Engineering, and Education.
"Teachers can really learn a great deal from 'The Wonder of Learning'," Gandini said. "It's showing people who are going to be teachers in our education system how to think, plan, and pose questions to themselves before thinking about educating children."
According to Gandini, the Reggio Emilia approach to teaching is about being "sensitive to new possibilities" in educating children, and "accepting not only tradition but reinventing in a democratic way."
"The Wonder of Learning" has been touring major cities in the United States, Canada, and Mexico since 1987. The exhibit at the Henderson Fine Arts Center in Kentucky marks the first time it has been located anywhere other than a major metropolitan city. "Clearly it was a good choice," Gandini said. "The goals of the exhibit are different in larger cities. Here the focus can be more on educating."
While the exhibition is in Henderson through June 14, Gandini will teach a course for USI and other sponsoring institutions' education majors, as well as community educators, titled "Advanced Reflections on The Reggio Emilia Approach."
"The professional development conferences, coursework, and exhibit will expand teacher candidates' views of teaching and learning," Meyer said. "They will look with new eyes at children's abilities to construct knowledge using their many different 'languages' such as sculpture, constructions, and drama. They will be inspired to create environments, pedagogy, and relationships that excite children's imagination, curiosity, and intellectual development."