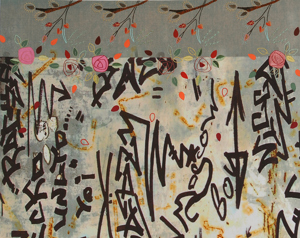 A reception for Textiles, an exhibition by Teresa Paschke, will be held at the New Harmony Gallery of Contemporary Art from 4 to 7 p.m. Saturday, February 9, during the New Harmony Winter Art and Antique Stroll. The exhibition is free and open to the public.   
Paschke's work combines state-of-the-art digital technology with traditional textile techniques. Most recently she has been printing photographs on canvas, utilizing a wide-format ink jet printer followed by hand printing and stitching. This combination of methods evokes the contrast between the multiplicity of digital imaging and the individuality of traditional hand techniques.
In addition, Paschke seeks to illuminate the similarities between historical and contemporary forms of visual expression in her juxtaposition of graffiti and needlework, and explore how cultural ideals can be expressed through the use of ornament and pattern.
Paschke received her Master of Fine Arts degree in textile design from the University of Kansas-Lawrence and Bachelor of Fine Arts degree in studio arts from the Minneapolis College of Art and Design. She is an assistant professor of integrated studio arts at Iowa State University and a member of the International Surface Design Association board.
For more information about Paschke, go to www.teresapaschke.com.
The New Harmony Gallery of Contemporary Art is located at 506 Main Street in New Harmony, Indiana. Regular hours are 10 a.m. to 5 p.m. Tuesday through Saturday. For more information, call 812/682-3156 or go to www.usi.edu/nhgallery.