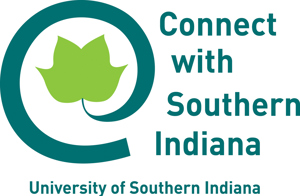 Seventeen individuals have been selected to participate in USI's 2013 Connect with Southern Indiana Program. An annual regional leadership program, Connect with Southern Indiana was established through a grant from the Lilly Endowment in 2006 and is currently sponsored by USI's Historic Southern Indiana. The intent of the program is to boost Indiana's retention of intellectual capital by helping participants strengthen their skills and opportunities for involvement in community and regional projects, meet business and civic leaders, and gain greater awareness of community and regional needs.
This year's class includes:
Dubois County
Whitney Hall, administrative coordinator, Dubois County Visitors Center and Tourism Commission
Mary Siegel, marketing and research specialist, Kimball Electronics Group-Division of Kimball International
Perry County
Antonia Webster, administrative assistant, Perry County Convention and Visitors Bureau
Pike County
Dana Wilson, employee benefits account manager, German American Insurance
Posey County
Johnna Denning, director, Posey County Community Foundation
Charlene Kaufman, contractor consultant at Vectren Energy Delivery, Compliance Training, Inc.
Steven Stump, director of development and alumni engagement, Ivy Tech Community College-Southwest
Nicholas Wildeman, auditor/head of HR and payroll, Posey Co. Government
Spencer County
Emily Thompson, director, Santa Claus Museum and Village
Carol Troesch, owner, freelance writing, public relations, event planning, Inkspot Productions LLC
Vanderburgh County
Anuradha Asthana, supply chain coordinator, Shoe Carnival

Melissa Bullock, systems analyst-ambulatory physician team, Ascension Health Information Systems
Cheven May, 4-H youth development educator, Purdue Extension-Posey County

Donald Crankshaw, human resource and organizational development officer, Evansville Vanderburgh Public Library
Judith Rueger, project manager, Economic Development Southwest Region
Peter Williams II, AmeriCorps service member, USI via AmeriCorps
Warrick County
Wayne Fiester, account executive, Madstache, Inc. and background screening consultant, Reference Services, Inc.
Participants will attend ten full-day sessions over a six-month period and will develop a collaborative project that will be presented at the end of the program. Their first meeting will take place on Friday, January 11 in Spencer County.
Topics for this years class include community overviews, critical thinking, personality profiles, opportunity identification, project management, public skills, presentation planning, and government relations. USI faculty and staff and community leaders will facilitate all programs.
Connect with Southern Indiana is open to Indiana residents living in Dubois, Gibson, Knox, Perry, Pike, Posey, Spencer, Vanderburgh, or Warrick counties who would like to improve the quality of life in their communities.
Applications to participate in the 2014 Connect with Southern Indiana program will be available this summer.