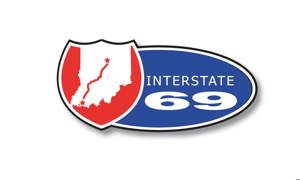 The University of Southern Indiana's Division of Outreach and Engagement will host a meeting of the EVV-Crane I-69 Innovation Corridor Consortium from 8 a.m. to noon (CST) Friday, February 1, in Carter Hall, located in the University Center on the USI campus. More than 90 people are expected to attend, including U.S. Congressman Larry Buschon. Lieutenant Governor Sue Ellspermann also was expected to attend but had a change in schedule. 
The EVV-Crane I-69 Innovation Corridor Consortium is made up of southwest Indiana government leaders; business, healthcare, and education representatives; and economic development officials with a goal of capitalizing on the construction of Interstate 69 from Evansville to the Naval Surface Warfare Center Crane Division (NSWC Crane) as a corridor of innovation, entrepreneurship, and creativity.
"Our vision is to develop a culture and environment that supports a regional I-69 Innovation Corridor from EVV to Crane," said Mark Bernhard, USI associate provost for Outreach and Engagement and chair of the executive committee. "Our committee owns the effort of widening the network that supports this regional initiative. We look forward to sharing new information with the consortium and to launching task forces comprised of key regional leaders who will work to help the corridor achieve our vision."
Watch a video that provides an overview of the EVV-Crane I-69 Innovation Corridor vision.
A kick-off meeting held November 12, 2012 in Huntingburg, Indiana, was attended by 60 leaders, including the mayors of Evansville, Huntingburg, Jasper, Loogootee, Oakland City, Petersburg, Princeton, and Washington, as well as Lieutenant Governor Ellspermann, who was the founding director of USI's Center for Applied Research and Economic Development (CARED).
At that meeting it was revealed that over the past three decades, the I-69 Corridor region has experienced below-average growth in key indicators of economic success: employment, population, and personal income. "I-69 presents a tremendous opportunity to focus on strengthening the region's innovative capacity," Bernhard said.